VisitScotland Quality Assurance 2021 Support
For the 2021 Quality Assurance (QA) Scheme year, VisitScotland will continue its support to the industry by waiving its QA fees for all Scheme members.
In waiving the QA fees for a second year, VisitScotland has decided to amend and extend the period to which these relate. The QA Scheme year will now align with the financial year, running from April 2021 – March 2022.
You can find more information here.
Wild Scotland and VisitScotland
working in collaboration to support businesses in the Adventure Tourism Sector
Are you finding planning for 2021 and beyond impossible?
Here's some help! 
Wednesday 24th February 2:00 pm until 3:00 pm
VisitScotland and Wild Scotland have worked together, using the STERG Scenario Planning Toolkit,  to highlight key considerations for small and medium sized Adventure Tourism Operators planning for the different scenarios Scottish tourism may face through 2021 and beyond.
This workshop will help you:
understand why and how to use scenario planning
consider the strengths, weaknesses, opportunities and threats in the sector
reflect on how your customers,  your product/offering, staff and suppliers may be impacted in the face of different scenarios – and how you may want to act
hear thoughts on what has worked for others and ideas you may want to implement within your own business
Go away with some real actionable ideas as you plan for the next 12 to 24 months .
Register here
This is an open event for all businesses working in adventure tourism from activity operators to marine and wildlife operators across Scotland
Loch Beinn a Mheadhoin in Glen Affric, Scotland.
Pictured: Loch Beinn a'Mheadhoin in Glen Affric, Scotland © SCOTLAND: The Big Picture scotlandbigpicture.com
Three-quarters of Scots support rewilding says new research
Findings come as call launched for Scotland to become world's first 'Rewilding Nation'
More than three quarters of Scots support rewilding in Scotland, according to research conducted for the Scottish Rewilding Alliance, a coalition of over 20 organisations.
The findings come as the Alliance launches a campaign calling on the Scottish Government to declare Scotland the world's first Rewilding Nation, with a commitment to rewilding 30% of the country's land and sea within a decade, ahead of the United Nations Climate Change Conference (COP26) to be held in Glasgow in November.
A new opinion poll shows that 76% of Scots support rewilding – the large-scale restoration of nature to the point it's allowed to take care of itself – with just 7% opposed.
The Rewilding Nation campaign kicks off today (17 February), with an inspiring new animation narrated by wildlife presenter and filmmaker Gordon Buchanan showing how rewilding can help make Scotland a place where nature recovers, wildlife flourishes and people prosper.
"The world faces overlapping nature, climate and health crises, but Scotland has the opportunity to show bold leadership by becoming the world's first Rewilding Nation. We have the space, political influence and public backing to become a world leader in saving nature and ourselves," said Steve Micklewright, Convenor of the Scottish Rewilding Alliance and Chief Executive of Trees for Life.
With habitats and species being eradicated rapidly worldwide, the United Nations has declared 2021-2030 the Decade of Ecosystem Restoration. The Scottish Government has committed itself to bold action to tackle the crisis facing biodiversity through its Edinburgh Declaration.
Yet far from being the nature-restoration trailblazer it could be, and despite many superb conservation initiatives, Scotland is lagging behind other countries – with nature in steep decline and its landscapes among the world's most nature-depleted.
Only 1.5% of Scotland's land is national nature reserves and just 4% native woodland, while 25% is severely nature depleted and does not support the nature-rich forests, peatlands and river systems it should. Rural landscapes now support fewer people than previously.
Declining or at risk species include red squirrels, wild cats, capercaillie and great yellow bumblebees. Recovery or return of species such as beavers, cranes, sea eagles and pine martens happen slowly, while elk and lynx are among the species already made extinct.
The Scottish Government has put 37% of Scotland's seas into forms of designation, but damaging activities such as scallop dredging and bottom trawling are only banned from less than 5% of coastal waters. Government assessments reveal that the extent of seabed habitats continues to decline. Wild salmon populations are at historically low levels. Seabirds are feeding their chicks plastic waste.
"It's past time to reboot our relationship with the natural world, and Scotland can lead the way. By working with nature instead of against it, rewilding can restore life to hills, glens, rivers and seas – while tackling climate breakdown and offering fresh opportunities for farming and local economies," said Rebecca Wrigley, Chief Executive of Rewilding Britain.
The Alliance says rewilding at least 30% of Scotland's land and sea by 2030 can be achieved by restoring and expanding woodlands, moorlands, peatlands, rivers and marine habitats, and without loss of productive agricultural land.
Hugh Raven, Chair of Open Seas, said: "The new opinion poll shows people know that nature's health is our nation's wealth. Incentivising lower impact fisheries around our coastline would help degraded habitats and fish populations recover, and regenerate our harbours and coastal towns. Recovery in places like Lamlash Bay shows what can be achieved by communities, but we urgently need to rewild larger areas of our seas."
Tom Bowser, farm owner and Ranger with Argaty Red Kites, said: "Declaring ourselves a Rewilding Nation would be a powerful statement of intent that we're serious about tackling the climate and nature crises, reconnecting people with nature, and regenerating our communities."
The Alliance recommends using rewilding as a natural solution for increased absorption of atmospheric carbon, building rewilding into post-Covid green recovery plans, and establishing a native species recovery policy and a nationwide network connecting nature restoration projects.
"We're being seriously outpaced by climate breakdown and biodiversity loss, so trying to save nature piecemeal isn't enough. Scotland has the opportunity to restore the web of life that supports our health and wellbeing, while acting as a rewilding inspiration globally," said Peter Cairns, Director of SCOTLAND: The Big Picture.
For more details and to view the Scottish Rewilding Alliance's new animation, Rhythms of Life, following its launch on the evening of 17 February see www.rewild.scot.
THE UK NATIONAL TRAINING SCHEME FOR MINIMISING DISTURBANCE TO MARINE WILDLIFE
The WiSe Scheme
The UK's national training scheme for minimising disturbance to marine wildlife
The waters around the UK are home to a fantastic variety of marine wildlife, whether visible from the shore or from a boat. However, these wild animals are vulnerable to disturbance if not encountered in a manner that respects their wild nature.
​The WiSe Scheme is about watching marine wildlife the wildlife-safe way.
​"Our aim is to promote responsible wildlife-watching, through training, accreditation and raising awareness. The WiSe Scheme is a simple modular training course aimed primarily at wildlife cruise operators, dive and service boats and yacht skippers. These people are most likely to come into contact with marine wildlife, as they are out on the water on a regular basis. But we also seek to educate the general public who are keen to minimise their impact whilst out on or near the water.​"
​Find out more: what is the WiSe Scheme?
​Forthcoming courses see WiSe Course details.
Standard WiSe Course – taking place: 22/2/2021 and 23/2/2021
Time: 19.00 – 21.30 both nights
Location: Zoom link to be sent out before the course
Cost: £120 per person (including VAT).
More info here
Skills Development Scotland employer recruitment consultation
Skills Development Scotland are undertaking research into the current and anticipated recruitment challenges faced by employers in the Highlands as a result of the Covid-19 pandemic and the UK's exit from the European Union.
If you are an employer in the Highlands region, they would really appreciate it if you could take the time to complete a survey about your experience. They are particularly interested if you have faced recruitment challenges at present, or expect to in the next few months, as this information will inform government decisions about policy, resources and investment in skills and training and support to employers.
The survey will take no more than 15 minutes to do and your responses will be completely confidential.
The survey can be accessed here.
If you have any questions, please get in touch with Claire Boyle at ekosgen (the company undertaking the research) at Claire.boyle@ekosgen.co.uk.
Finance Secretary confirms extension to business rates holiday
Following the announcement of £1.1BN of consequential funding from the UK government, Finance Secretary Kate Forbes has confirmed the extension of 100% business rates relief for another year for retail, tourism, hospitality and aviation businesses.
The move builds on the three month rates relief extension announced in the Scottish Budget and will be taken forward provided the Scottish Government receives the funding already assumed from the UK Budget on 3 March, and that requisite funds are available to maintain existing support into 2021-22.
She also confirmed £50M investment for town centres and £10M in capital funding specifically for tourism infrastructure in rural communities for next year.
Ms Forbes said:
"When I presented our budget last month I guaranteed to extend non-domestic rates relief further if I was given the necessary resources. I can now deliver on that promise, providing the UK Budget in March delivers the funding we require.
"The other measures I am proposing today, including further support for hospitals, schools and local government and measures to tackle climate change, build on our priorities to ensure a robust recovery for our economy and public services.
"This welcome additional consequential funding was confirmed to us yesterday and I wanted give early notice to parliament and provide clarity to businesses.
"We are still in the throes of a national emergency and it is important Parliament works together to respond. I will continue to work with all parties to help deliver a budget for the nation fit for these times."
The STA released the following media statement:
Marc Crothall, Chief Executive of the Scottish Tourism Alliance said;
"The STA welcomes the First Minister's announcement that the Scottish Government's strategic framework is under review and that the updated routemap will hopefully be published next week.  It is absolutely critical that the tourism industry is given as clear an indication as possible around reopening, given the sheer reliance on the domestic market as a result of the Scottish Government's extension of quarantine and the need for businesses to start trading again.
Many businesses have already rolled over bookings from last year to this year and there can be no guarantee that those customers will maintain their commitment given this level of uncertainty
Since the First Minister's announcement this afternoon, we have had an influx of correspondence from tourism businesses extremely anxious at the First Minister's indication that an Easter reopening is highly unlikely and that a question mark has been placed over domestic travel this summer.  The STA Board will meet with the First Minister in the coming weeks and take the opportunity to update Ms Sturgeon on the desperate state that the industry is in.  I know of numerous businesses who are wholly reliant on being able to trade again at Easter in order to stay solvent; today's indication that this is highly unlikely will I know serve as a crushing blow to many.
On a positive note, I know that our industry is breathing a huge sigh of relief as a result of the Finance Secretary's announcement that she will extend 100% business rates relief to the sector for another year.  This has been one of the STA's priority asks in recent months and we have had many constructive conversations with Ms Forbes over the past few weeks and as recently as this morning; I am delighted that our voice has been heard and also that a package of support has been extended to Scotland's town centres with additional capital funding specifically for tourism infrastructure projects in local communities.  There is however no doubt that upweighted targeted support must be allocated to the tourism sector if businesses are not going to be able to trade viably for months to come and the STA will continue to press both the Westminster and Scottish Governments for this.
Scotland's tourism industry continues to be 100% aligned to the health agenda; our businesses are committed to opening in a safe and secure way, giving customers confidence as a result of the level of financial investment which has been adopted across the sector."
Scottish Government likely to advise against booking Easter holidays "either overseas or within Scotland"
The First Minister announced details of the review of current lockdown restrictions, telling the Scottish Parliament that "Our room for manoeuvre remains very limited. Even a slight easing of restrictions could cause cases to start rising rapidly again." and that "because of the new, more infectious variant, our exit from lockdown is likely to be even more cautious than it was last summer."
Ms Sturgeon said that the Scottish Government is currently preparing a revised strategic framework, which will set out in more detail when and how we might gradually emerge from lockdown and it is hoped that this will be published next week.  The revised framework will "aim to set out how we will use and balance all the tools at our disposal – restrictions and advice, vaccination, test and protect, and travel restrictions – to restore, on a phased basis, greater normality to our everyday lives."
The First Minister also indicated that the Scottish Government is "likely to advise against booking Easter holidays, either overseas or within Scotland, as it is highly unlikely that we will have been able to fully open hotels or self catering accommodation by then." and added; "For the summer, while it is still highly unlikely that overseas holidays will be possible or advisable, staycations might be – but this will depend on the data nearer the time."
Ms Sturgeon spoke of 'trade-offs' and that "in a world where we can't do everything immediately, we will need to decide what matters most" and gave details of the Scottish Government's phased approach to pupils returning to school.
The First Minister also highlighted that the Scottish Government will be "driven much more by data than dates."
You can read the First Minister's statement in full here
Support Funding for Marine & Outdoor Tourism Update 
Applications from this fund have now closed.

Applicants will hear soon whether or not they have been successful. There will be the opportunity to appeal if you are unsuccessful.
In response to our appeal to the Scottish Government, the Outdoor and Marine fund has been increased from £2.5 million to £4 million. However, Wild Scotland and Sail Scotland continue to lobby hard on behalf on the sector in recognition that this fund is not enough and we are looking at further support to ensure survival of businesses.
The following has been highlighted and we look forward to meeting with the Cabinet Secretary, Fergus Ewing in a couple of weeks to discuss further:
Underfunded grant scheme
Parity with other sectors
Inequality of funding support
Catastrophic market failure
Critical short season
International Adventure Travel Guide Qualification and Performance Standard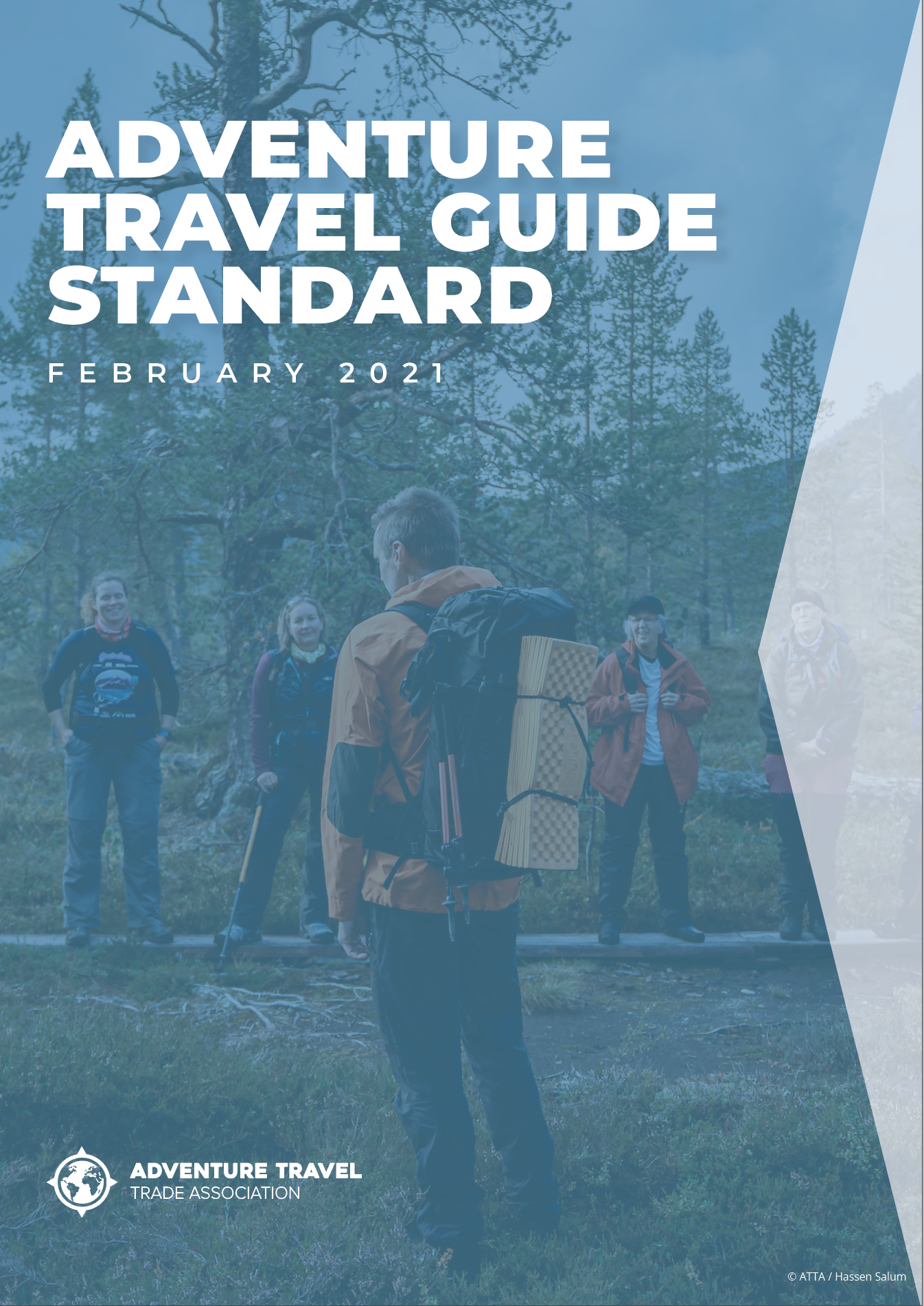 Adventure travel guides are central to the delivery of professional, responsible and memorable adventure travel experiences.  The rapid growth in adventure travel in recent decades has led to an increase in demand for professional adventure travel guides and highlighted the need for an accessible, clear and universal adventure travel guide standard.
Adventure guides manage safety and risks and ensure the overall quality of participant's experience while safeguarding both adventure travel company and destination reputations.  Moreover, adventure travel guides have a critical role to play in delivering and educating about sustainability with focus on the climate emergency, biodiversity preservation, social impacts of global tourism and biosecurity issues.
In an effort to bring together one integrated Adventure Travel Guide Standard (ATGS), in 2015 the Adventure Travel Trade Association (ATTA) convened a working group of adventure travel professionals from 16 countries, including guides, business owners, and tour operators. The 1st Edition was published in February 2016.
In accordance with the ATGS Governance Board, the ATGS is revised every 5 years, first by a working group of Governance Board members and then through a public consultation process. The 2nd edition was revised between August 2019 and October 2020 and released to the public in February 2021.
View list of participants for 2nd Edition
This ATGS is offered to the industry as a voluntary guideline. It is not enforced or regulated by the ATTA or any other organization.
Governments, destination managers, and company owners are encouraged to refer to the ATGS when evaluating the quality and performance of their own guides and determining appropriate training programs. Both new and experienced guides may refer to the ATGS as a benchmark for evaluating their own performance.
How You Can Support the Adventure Travel Guide Standard
Companies, guides and destination managers are encouraged to review the ATGS and officially sign up to the document, signalling their support and intention to adhere to the best practice components of adventure travel guiding. To sign your name and company to the ATGS, please fill out the form below.
Nominations for Guide Standard Governance Board
The ATGS Governance Board is a volunteer group made up of guides and industry professionals whose purpose is to ensure and oversee the ongoing maintenance of the ATGS. The responsibilities of the governance board include:
Conducting outreach throughout the world informing businesses and governments about the standard
Assisting in efforts to implement the standard
Accepting, documenting and incorporating relevant feedback and suggestions
Published:
28 Jan 2021 14:36
Significant new investment to drive economic recovery, bolster public services and support families underpins the Scottish Government's spending and taxation plans for the coming year.
Presenting the Scottish Budget 2021-22, Finance Secretary Kate Forbes today announced support for jobs and skills totalling around £1.1 billion.
Job creation is a priority, with measures including a commitment to launch a new Green Workforce Academy to help people secure work in the low carbon economy, a £100 million Green Jobs Fund over the next parliament,  £7 million towards making Scotland a world class hub for digital business and an additional £115 million for the Young Person's Guarantee.
Health receives record funding of over £16 billion, an increase of 5.3% on 2020-21, along with a further £869 million to continue tackling coronavirus (COVID-19), including funding for the vaccination and test and trace programmes. This means that, over the course of this parliament, investment in health has increased by £1.8 billion in real terms – more than tripling the commitment to increase health funding by £500 million more than inflation.
To support family budgets, £90 million is being made available for local authorities to freeze council tax.
Public sector workers earning up to £25,000 can receive at least a 3% pay increase via a £750 cash underpin, while there is a 1% rise for those earning above that amount, capped at £800 above £80,000.
The budget also proposes:
£11.6 billion for local government, which represents a £335.6 million increase in core revenue funding, including the £90 million to compensate local authorities which choose to freeze Council Tax, plus £259 million in one-off funding
£1.9 billion for primary health care to help deliver more services in the community. A further £550 million is earmarked to build new Elective Care Centres and the Baird Family Hospital and Anchor Centre in Aberdeen
£98.2 million to improve Scotland's digital infrastructure and deliver access to high quality broadband and mobile coverage.
£711.6 million for affordable housing and £68 million for the first full year of the Scottish Child Payment, tackling child poverty
a new £55 million programme to support town centres and community-led regeneration projects
more than £3.1 billion in resource and capital investment for education and skills, and £567 million to provide 1,140 hours of early learning and childcare, supporting implementation of the UK's most ambitious childcare programme
£1.3 billion for the Scottish Police Authority, including a £60 million increase in Police Scotland's revenue budget – exceeding an earlier pledge of a £100 million boost over five years
£1.6 billion for rail and bus services and £100.5 million for active travel to consolidate changes to healthy, green travel options seen during the pandemic
doubling the Rural Tourism Infrastructure Fund, helping tourist attractions and local communities make improvements to cope with increased visitors
an additional £27 million to expand woodland creation and the associated infrastructure, supporting green jobs
Business support remains a priority and the Finance Secretary confirmed that the Local Authority Discretionary Fund will be doubled to £60 million in this financial year to allow councils to respond to local needs. In addition, businesses eligible for the Strategic Framework Business Fund will receive full Level 4 payments on 22 February, regardless of any future changes to local restrictions.
The Scottish Government will also increase a scheme which compensates councils for the loss of income from sales, fees and charges due to the pandemic from £90 million to £200 million in 2020-21.
Ms Forbes said:
"This budget is being delivered in exceptional circumstances as we continue to battle a pandemic that has shaken our society and economy to the core, and as we face the harmful impacts of Brexit.
"It promotes innovation and reform, new beginnings, new directions. And while it continues to target support in the immediate term, it also tracks a course over the next year to build a fairer, stronger and greener country.
"To help drive our green economic recovery I am providing the stability and certainty that businesses have asked for through the most competitive reliefs packages in the UK. There are innovative measures to promote sustainable growth and we are investing more than £1 billion in jobs and training.
"The budget sets out a distinctive Scottish pay policy that again supports the lowest paid, charting a different course to the ill-judged pay freeze announced by the UK Government. It also bolsters our health service, delivers more affordable homes, provides additional childcare places and helps young people into work.
"Throughout these dark times we have never given up hope. This budget seeks to build on that hope and, by focusing on how we rebuild and renew our country, make the light at the end of the tunnel shine that bit brighter."
Background
The Scottish Budget 2021-22 document is available online.
Full details of the budget are available at www.gov.scot/budget
Individual local authority allocations are due to be published on Monday.
See more from @ScotGov on Twitter and follow #ScotBudget for updates.